Testosterone Cypionate (TC) Powder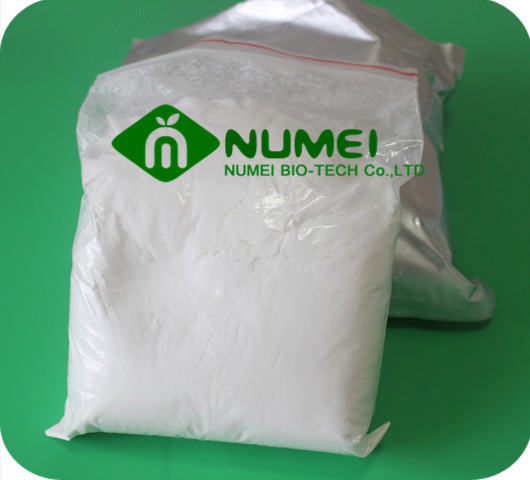 Name: Testosterone Cypionate (TC)
Aliases: testosterone 17b-cypionate –dea*schedule iii
Category: hormone class
CAS Number: 58-20-8
Molecular Formula: C27H40O3
Molecular Weight: 412.6047
Specifi Cations: 98%
EINECS No.: 200-368-4
Quality standard: enterprise standard
Packaging: 5kg (aluminum listening)
Appearance: white crystalline powder
Use: mainly used for the treatment of hypoclymic and cryptorchidism.
Testosterone Cypionate is a synthetic testosterone, is a long-acting version of the parent hormone testosterone with an attached cypionate ester to delay its release into the body. Testosterone is the most potent, naturally occurring androgen that is formed in the human body. It is responsible for characteristics specific to males and their sexual traits. It mainly used in clinical treatment without testosterone disease or class testosterone, cryptorchidism, functional uterine bleeding, menorrhagia, endometriosis, uterine fibroids, menopausal syndrome, metastatic breast and ovarian cancer, a pituitary dwarfism, senile osteoporosis, aplastic anemia, etc.
This derivative of testosterone is a great hit with American athletes as it provides more of a "kick" than other testosterone derivatives like testosterone enanthate. In addition to this, the cypionate version of testosterone is believed to produce a marginally higher level of fluid retention but not much to be discerned. This long-lasting oil-based injectable has the potential of keeping the levels of testosterone sufficiently elevated for as many as two weeks.
It is classified as the oil-soluble 17β-cyclopentylpropionate ester of the androgenic hormone (testosterone). Its chemical name is androst-4-en-3-one, 17-(3-cyclopentyl-1-oxopropoxy), (17β)- and the molecular weight is 412.61 and its molecular formula is C27H40O3. Use of this anabolic androgenic steroid can be easily associated with significant gains in the levels of body strength and muscle mass during a bulking cycle.
The recommended dose of testosterone cypionate for men is 50-200mg per week and this steroid is usually injected on a weekly basis.
Specification: oil injection: 50mg / 1ml, 100mg / 1ml, 200mg / 1ml.
It can effectively increase muscle mass and strength, slightly more effective than Testosterone Enanthate.
Testosterone Cypionate is a kind of difficult to get a long-term testosterone, Cypionate can effectively increase muscle mass and strength, is a little more efficient than Testosterone Enanthate, is very popular in the testosterone, but its water more, and relative to other synthetic reaction of the drug than may relatively more, clinical general effective dosage of 200-1000 mg every week, a lot of people use more 2000 mg/week,, of course, this is not very safe.
Testosterone Cypionate can only be used in an injectable form and is often used to treat conditions such as low Testosterone. More than 20 million people in the United States have some form of low testosterone, which can seriously reduce the quality of life. Symptoms such as muscle mass and loss of strength, decreased libido and sexual performance, increased body fat and low energy levels are common features of low testosterone. In addition, neglect of low testosterone can be a gateway to many serious conditions such as alzheimer's disease, diabetes and osteoporosis. Most men find injections every seven to ten days, with a total of 100mg to 250mg per injection to completely eliminate the problem.
Why Our Testosterone Cypionate So Popular:
1. We are a legit pharmaceutical company.
2. Our products are certified by GMP and ISO9001.
3. Our product's purity must be above 98%.
4. Always offer our customers affordable prices.
5. We have a special cooperation forwarder to ensure punctual arrival.
6. Our minimum order is 10g. If your order exceeds 1kg, we can provide domestic delivery service for you.
7. Our Payment Terms: T/T, western union, MoneyGram, bitcoins.
8. Sale Range: Global, USA, UK, Canada, Germany, Brazil, Australia, Italy etc.
Related Items